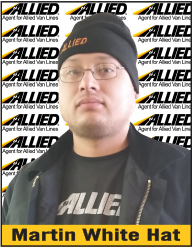 Michael Scott, President of The American Moving and Storage Association called Jerred Koppman, President of North Western Warehouse, Rapid City, SD, on January 25th to inform them that Martin White Hat was selected as the 2018 American Moving and Storage Association Moving Rookie of the Year. Martin was nominated as a result of being named SDTA's January 2018 Driver of the Month by the SDTA Safety Management Council.
Martin will go to Houston, Texas, in March 2019 to attend the 100th Anniversary Convention of the American Moving & Storage Association where he will be honored for his achievement.
The staff at North Western Warehouse in Rapid City, SD celebrated the announcement.

(Left to Right) Back Row: Ed Hogan, Mat Mesowski, Ryan Payte, Jerred Koppmann, Martin White Hat, Andre Johnson, Chris Schacher, Jordan King; Front Row – Ray McFarland, Ron Cheshier, Jason Severson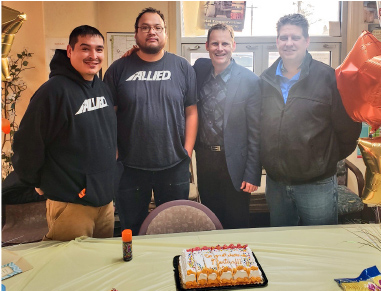 Left to Right: Jordan King (Dispatcher) Martin White Hat (AMSA-Rookie of the Year) Jerred Koppmann (President) Ron Cheshier (Operations Manager)